Our Collections
Production Knives
Current Production Knives
See More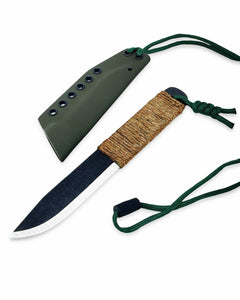 Design Your Custom Knife
Don't settle for a generic knife. Take control and create your very own Bear Forest Knife with our online customization form. Choose from various steel and handle options to make your knife truly unique. Don't wait any longer, and start designing your perfect knife today.
get started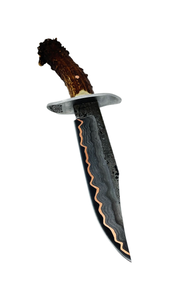 Custom Knives
We make custom knives using a wide variety of steels and handle materials. Check here for available knives.
See More
About Bear Forest Knives
"Is there any greater feeling than finding self-reliance and solitude amongst the mountains and valleys?"
Welcome to Bear Forest Knives (BFK). I'm Garrett Tremblay, founder, and creator, of BFK, and I want to thank you for visiting us!
Most outdoors lovers alike share an abiding love for the Great Outdoors. The freedom, fresh air, and the chance to connect with nature in all its glory are—immeasurable! 
I created Bear Forest Knives to enhance all your adventures in the wild, standing at 'the ready' for whatever the time of day, weather conditions, or environment may bring. Bear Forest Knives are purpose-built tools for these moments and the daily life happening in between!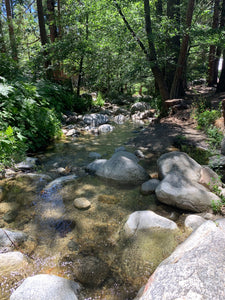 Kydex Sheaths
All of our sheaths are made in house from .080 kydex in a variety of colors, graphics, and textures.
What people are saying about bear forest knives
"I met Garrett through our shared passion of knives on Instagram well before Bear Forest Knives had kicked off, and I quickly realized that he had a solid understanding of what made knives good- and bad. Through my own reviews and designing I began to rely on him for advice, and when he told me he was going to start making knives I KNEW it was going to be epic! Not only did his knives live up to my expectations, but the quality of his work and his fit and finish met my expectations FAR sooner than I thought possible. BFK's will surely hit a sweet spot between custom, hand made blades and production value."

Jacob Beach (Youtube:ThePreppersBunkerOutdoors)
"Over the past year, I have been using Bear Forest Knives in my camp for my own adventures, instructing survival classes, prototype testing, and reviewing for magazines. Garrett has a knack for knife making and his passion propels him to get better with every new step he takes on his journey. I have seen BFK sore to new heights in the short time I have been working with Garrett and his knives. If I had to sum up Bear Forest Knives it would be easy...Rustic Simplicity!"

Reuben Bolieu (Adventure Magazine Writer) 
"For the past few years i've had the pleasure of using several of the Bear Forest designs for everything from teaching classes to cleaning/skinning game. They are a great example of what an outdoor knife should be and i can't recommend them enough."

Patrick Rollins (Lead Instructor of Randall's Adventure & Training)
B.F.K. in Knives Illustrated